Featured Properties
Keep Inventory at the Top of Search Pages.
What are Featured Properties?
Featured properties are available in one through ten slots and listings can be interchanged and edited anytime. Switch properties whenever a particular listing needs to be featured.
Maintain Inventory at the Top of Search Pages
For your convenience, Feature Properties are billed monthly - cancel anytime.
Featured Properties Price Breakdown
Savings Level
Number of Slots
Monthly Payment
* For brokers needing more than ten slots, call Business Development for discount availabilities.
$
1 Slot
$19.95
$$
2 Slots
$35.95
$$$
3 Slots
$49.95
$$$$
4 Slots
$64.95
$$$$$
5 Slots
$79.95
$$$$$$
6 Slots
$84.95
$$$$$$$
7 Slots
$89.95
$$$$$$$$
8 Slots
$94.95
$$$$$$$$$
9 Slots
$99.95
$$$$$$$$$$
10 Slots
$104.95
Featured Properties Benefits
Featured Properties appear at the top of search results and are the first listings a searching broker will see.
Also Includes:
Agent Photo - Photo area displays your head shot with your listings in search results.
Monthly Billing - Featured Properties are billed monthly - cancel anytime.
Listing Switching - Listings can be rotated or changed any time.
Each listing is viewable until the listing is marked "withdrawn", "sold" or "unavailable" by the client.
Sample Featured Properties
Below is a sample of our Feature Property stacked on top of a regular listing.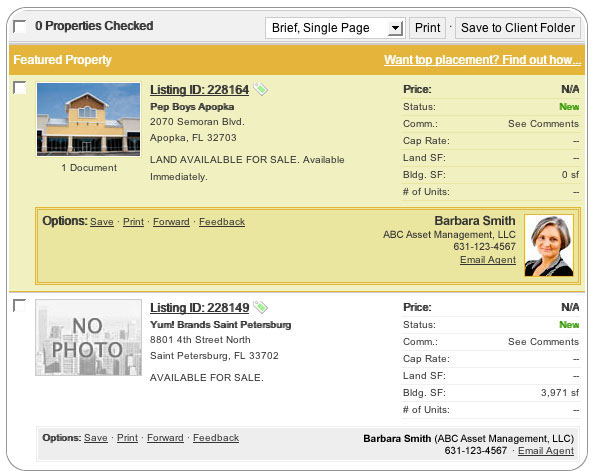 Call Property Line for more information about Featured Properties - 281-299-3161. You may also fill out our Contact Form to request information.
Benefits
Unlimited Listings

List with no premium membership levels and gain access to the latest listings. Upload unlimited attachments such as photos, documents, etc.

Unlimited Searching

Search national availabilities of commercial sale, lease, and comparables properties.

Inventory Mapping

Free interactive maps of your listings provided by Google Maps™. Instant satellite aerial photo and directions provided for all your listings.

Free Demographic Reports

Detailed property reports with one, three, and five miles radius demographic information.

Unparalleled Member Service

Partner with a customer-centric business that is committed to proactive services that surpass the expectations of our members.
Member Success Stories
I have used Property Line for over 10 years and was excited to hear about their new service, PL Direct. PL Direct is affordable, user-friendly and company branded throughout. It delivers a clean, professional look to our website.
Frank P. Gatski, CPM, CCIMPresident/CEO Gatski Commercial, Las Vegas
I'm now reading a dozen or so responses to my ad requesting additional info, typical of the great results I normally experience in advertising with Property Line.
Larry IlfeldSperry Van Ness, Albuquerque